Next to last full day in Florence
... which sort of feels like the last day because a) I'm very very tired; b) I seem to have seen everything at least as far as the Rick Steves guidebook would have it, and some things twice, and c) tomorrow (Sunday) we are in for heavy rain, so I'm thinking I'll take it very slow. Touring is hard work! So I think I'll give myself a day off -- Monday will be about dragging luggage around in the rain.
At least part of the plan for tomorrow is to wait on that long ticket line at the train station again so I can change my reservations for the train trip from Siena to Rome via Florence -- the travel agent put me on a late afternoon train, assuming that I'd spend a morning sightseeing in Siena. But I'd prefer to just get up in Siena, check out of the hotel, take my huge suitcase to the station, and get on a train, and not have to deal with Left Luggage or whatever. I go to Siena Monday morning, and I suspect the one afternoon/evening there will do me and I won't need another morning of sights/sites. It's supposed to be raining then too, which is a bummer, but I've had marvelous weather on this trip for 98% of it, so mustn't grumble. And by returning earlier to Rome I'll have more time there to squeeze in something else -- I'll be back in Rome from Tuesday afternoon until Thursday night, which really isn't a lot. My flight home begins at the ungodly hour of 6:20 a.m. Friday, and I'll have to make special arrangements for a taxi to the airport, which will be costly, because the van doesn't run that early, nor does the train service, and the airport is not super-close. I'll get the hotel to help me with that. The one good thing about such an early flight is that there's no chance I'll have to wait on any lines to get through security, so I should be able to arrive there around 5:30 a.m. and make my flight.</cut>
So, today I had my second visit to the Uffizi, where I found that I actually didn't
quite
see all of it the other day, and there were a few charming paintings
-- a couple of Chardins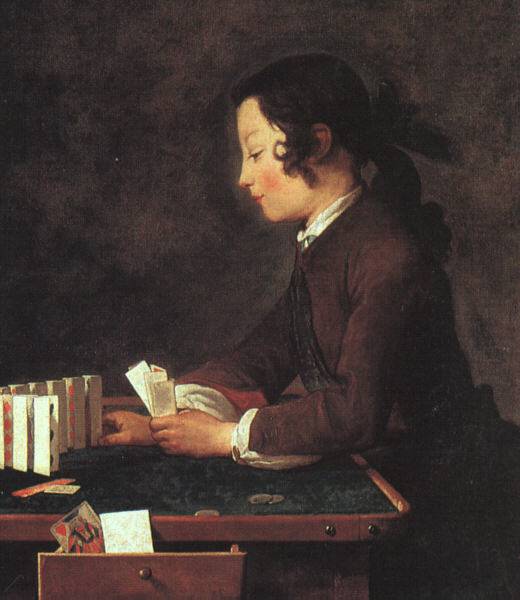 and a Goya portrait
-- that I was very happy to stumble upon.
Also reviewed a special exhibit they had on of painters influenced by Caravaggio, which included a number of Artemisia Gentileschis. I've become interested in her as she was one of the rare female artists who actually got to have a career. This is her Judith Beheading Holofernes:
-- a subject much seen in art of the time, where usually she's got her sword and her maid is holding the head in a basket, but this is the only example I've ever seen where she and the maid are shown in the act. A man looking at it beside me observed to his date that it was "Tarintino-esque". Gentileschi also did one of these more conventional Judiths, but even this one looks particularly business-like and fierce:
The woman working the coatcheck at the Uffizi was the same one who checked my coat and sold me my postcards at the Bargello yesterday -- I greeted her like an old friend, and she had the goodness to respond with recognition. I'm not lonely, but it's obvious that I'm getting a little backed up in the conversation department and longing to talk to someone.
Also discovered the Uffizi has a sort of patio where you can see the skyline:
After the Uffizi I stopped at the Rivoire cafe, which is noted for their great views of the Piazza della Signorina, their hot chocolate, and their high prices. But after sitting there for 10 minutes, I was apparently invisible to the waiters, so I left.
The last thing in the Rick Steves book that I hadn't done was visit the heights of the Piazzele Michaelangelo on the south side of the Arno, so I took the bus there. It was cloudy today, so the pictures I got weren't great. But what a vista. Closer-in than that in Fiesole, and full of drama, and now meaning, since having spent a week here, I know what I'm looking at.
After that I bussed back down to the center of Florence and just wandered around mingling with the busy Saturday shopping crowds. The luxury stores in Florence seem somehow even more posh than their Madison Avenue equivalents. I stopped at a little wine bar sort of place for a sandwich and a glass of wine around 5 and sat outdoors, continuing to reread
A Room With A View
on my iPhone. (One thing I learned from this trip is that I really didn't need to pack books. Having some on my phone is sufficient, and on the plane I read magazines.)
In conclusion, here are some marzipan fruits:
</cut>
Comments {0}